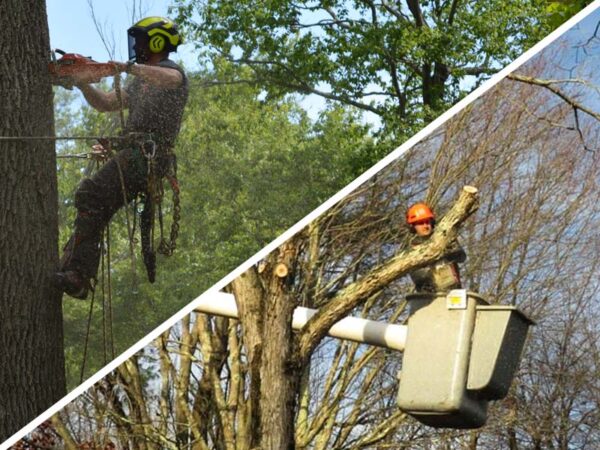 When And Why Do We Climb Or Use Buckets?
Contrary to what most people think when it comes to cutting down a tree, there are many nuanced techniques that are utilized for specific conditions and settings. Two of the more common specialized services that our team offers are the use of our bucket lift and our personal favorite — tree climbing! In this month's blog we're going to discuss the situations and conditions for which these services are recommended or necessary.
First, let's talk about bucket services. A bucket truck may not necessarily be the right tool for a typical backyard clearing project, but what if you have branches tangled around power lines? That is the type of situation that buckets are made for. A bucket lift allows our team to reach areas at the tops of trees that are otherwise inaccessible by other means in a safe and controlled environment. If a project involves tangled branches, particularly around power lines or other utilities, bucket lifts are the optimal solution.
For projects that involve restricted or confined spaces due to the proximity of other trees or obstructions, we utilize our specialty — tree climbing. Climbing allows us to have complete control over our work environment, which is critical when your job involves using a chainsaw in a tightly restricted space. Tree climbing is typically the best strategy for taking down trees that are completely inaccessible by machinery, cutting down trees in a tight grouping, or for projects that only require trimming the tops and branches of specific trees.
Regardless of what your project entails, you can be confident that our team is capable of properly assessing what the best option is for any given scenario. We have developed our skillset around maintaining a safe work environment while enabling us to offer specialized services for clients that you won't find from other contractors.
ABOUT KROHN KUTZ
Krohn Kutz Tree Service is a Connecticut based team of trained professionals that offers a variety of tree removal services. Our equipment is constantly updated and we excel in reaching difficult areas safely. We work with our customers to come to an informed decision that meets their needs and our team has a strong work ethic to get the job done right.
For more information, contact us at:
860-933-8756
krohnkutz@gmail.com
Available 24/7, Including Weekends & Holidays